The following is our recommended best book list for sex addiction, betrayal trauma, and mental health recovery. Bold format denotes very highly recommended book. If it's missing here, we didn't read yet or don't recommend highly. If we missed any, please email us with your suggestions.
Sex Addiction Recovery Books
Treating Out of Control Sexual Behavior: Rethinking Sex Addiction by Douglas Braun-Harvey and Michael A. Vigorito
Going Deeper: How the Inner Child Impacts Your Sexual Addiction By: Eddie Capparucci
Awakening from the Sexually Addicted Mind: A Compassionate Guide to Recovery Paperback by Darrin Ford
Sex Addiction: A Guide for Couples and Those Who Help Them – Paula Hall
Treating Sexual Addiction: A Compassionate Approach to Recovery By: Dr. Kevin B. Skinner
TINSA: A Neurological Approach to the Treatment of Sex Addiction by Michael Barta
Unwanted by Jay Stringer
Erotic Intelligence: Igniting Hot, Healthy Sex While in Recovery from Sex Addiction By: Alexandra Katehakis
Sex Addiction Psychoeducation Books
traditional sexual addiction books (good to understand this from all sides):
Out of the Shadows: Understanding Sexual Addiction by Patrick Carnes
Sex Addiction 101 by Robert Weiss
against sex as an addiction:
The Myth of Sex Addiction Book by David J. Ley
balanced:
It's Not About the Sex: Moving from Isolation to Intimacy after Sexual Addiction By: Andrew Susskind LCSW SEP CGP
Getting Real about Sex Addiction by Graeme Daniels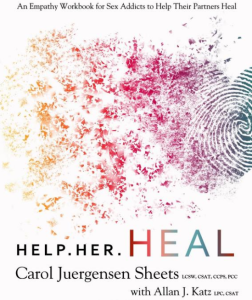 Betrayal Trauma Books
Help Her Heal: An Empathy Workbook for Sex Addicts to Help their Partners Heal by Carol Juergensen Sheets, Allan J. Katz
After the Affair, Third Edition: Healing the Pain and Rebuilding Trust When a Partner Has Been Unfaithful by: Janis A. Spring
Moving Beyond Betrayal By: Vicki Tidwell Palmer
Why Won't You Apologize? By: Harriet Lerner PhD
Treating Trauma from Sexual Betrayal: The Essential Tools for Healing By: Dr. Kevin B. Skinner
Intimate Deception Healing the Wounds of Sexual Betrayal By: Dr. Sheri Keffer
I Love You but I Don't Trust You: The Complete Guide to Restoring Trust in Your Relationship By: Mira Kirshenbaum
How Can I Forgive You? By: Janis A. Spring, Michael Spring
Transcending Post-Infidelity Stress Disorder: The Six Stages of Healing By: Dennis C. Ortman PhD
Facing Heartbreak: Steps to Recovery for Partners of Sex Addicts Paperback – by Stefanie Carnes
How to Help Your Spouse Heal from Your Affair: A Compact Manual for the Unfaithful  By: Linda J. MacDonald
Whole Again: Healing Your Heart and Rediscovering Your True Self After Toxic Relationships and Emotional Abuse  By: Jackson MacKenzie
How to Break Your Addiction to a Person When – and Why – Love Doesn't Work By: Howard M. Halpern PhD
Worthy of Her Trust: What You Need to Do to Rebuild Sexual Integrity and Win Her Back By: Stephen Arterburn
 Not 'Just Friends' by Shirley P. Glass Ph.D., Jean Coppock Staeheli
Your Sexually Addicted Spouse: How Partners Can Cope and Heal By: Barbara Steffens
General Mindfulness Books
Mindfulness is the foundation of the most effective therapies used in sex and porn addiction.
The Art of Living: Peace and Freedom in the Here and Now by Thich Nhat Hanh
Radical Acceptance: Embracing Your Life with the Heart of a Buddha  By: Tara Brach
The Wise Heart by Jack Kornfield
Neurodharma  by Rick Hanson
Buddha's Brain by Rick Hanson
A Monk's Guide to Happiness: Meditation in the 21st Century By: Gelong Thubten
When Things Fall Apart: Heart Advice for Difficult Times By: Pema Chödrön
The Tao of Fully Feeling By: Pete Walker
The Untethered Soul: The Journey Beyond Yourself By: Michael A. Singer
The Power of Now: A Guide to Spiritual Enlightenment by Eckhart Tolle
The Science of Enlightenment: How Meditation Works by Shinzen Young
10% Happier Revised Edition: How I Tamed the Voice in My Head, Reduced Stress Without Losing My Edge, and Found Self-Help That Actually Works: A True Story By: Dan Harris
ACT, CBT and DBT Books
The Happiness Trap: Stop Struggling, Start Living By: Russ Harris
A Liberated Mind: How to Pivot Toward What Matters by Steven C. Hayes
Radical Compassion: Learning to Love Yourself and Your World with the Practice of RAIN By: Tara Brach
Mindfulness for Borderline Personality Disorder: Relieve Your Suffering Using the Core Skill of Dialectical Behavior Therapy By: Blaise Aguirre MD , Gillian Galen PsyD
Loving What Is: Four Questions That Can Change Your Life By: Byron Katie
Reclaim Your Life: Acceptance & Commitment Therapy in 7 Weeks. Strategies to Manage Depression, Anxiety, PTSD, OCD, and More By: Carissa Gustafson PsyD
Calming the Emotional Storm – Sheri Van Dijk
The mindfulness Solution for Intense Emotions by Cedar Koons
 The Buddha and the Borderline: My Recovery from Borderline Personality Disorder Through Dialectical Behavior Therapy, Buddhism, and Online Dating By: Kiera Van Gelder
The Mindfulness Solution for Intense Emotions: Take Control of Borderline Personality Disorder with DBT
Cravings and Addictions: Free Yourself from the Struggle of Addictive Behavior with Acceptance and Commitment Therapy By: Maria Karekla PhD , Megan M. Kelly PhD
Shame, Compassion, Forgiveness Books
The Mindful Path to Self-Compassion: Freeing Yourself from Destructive Thoughts and Emotions By: Christopher K. Germer
Self-Compassion: The Proven Power of Being Kind to Yourself By: Kristin Neff
The Gifts of Imperfection: Let Go of Who You Think You're Supposed to Be and Embrace Who You Are – Brene Brown
Radical Self-Forgiveness Practices By Colin Tripping
Shame: Free Yourself, Find Joy, and Build True Self-Esteem By: Joseph Burgo PhD
Goodbye to Guilt By: Gerald G. Jampolsky M.D., Diane V. Cirincione Ph.D.
Shame & Guilt: Masters of Disguise By: Jane Middleton-Moz
Training in Compassion: Zen Teachings on the Practice of Lojong By: Norman Fischer
The Science of Compassion: A Modern Approach for Cultivating Empathy, Love, and Connection By: Kelly McGonigal Ph.D.
Healing Shame: How to Work with This Powerful, Mysterious Emotion – and Transform It into an Ally By: Bret Lyon PhD SEP , Sheila Rubin MA LMFT RDT/BCT
FLIP the Gratitude Switch: A Simple Formula to Change the Trajectory of Your Life By: Kevin Clayson
Healing the Shame That Binds You By: John Bradshaw
Healing Your Emotional Self: A Powerful Program to Help You Raise Your Self-Esteem, Quiet Your Inner Critic, and Overcome Your Shame By: Beverly Engel
Other Mental Health Books
Mindsight: The New Science of Personal Transformation By: Daniel J. Siegel
Don't Feed the Monkey Mind: How to Stop the Cycle of Anxiety, Fear, and Worry by Jennifer Shannon LMFT
Rewire Your Anxious Brain: How to Use the Neuroscience of Fear to End Anxiety, Panic, and Worry By: Catherine M. Pittman PhD , Elizabeth M. Karle MLIS
Man's Search for Meaning By: Viktor E. Frankl
Feeling Good: The New Mood Therapy By: David D. Burns
Brain Lock, Twentieth Anniversary Edition: Free Yourself from Obsessive-Compulsive Behavior By: Jeffrey M. Schwartz
The Four Agreements: Don Miguel Ruiz
The Mindful Way Through Depression: Freeing Yourself from Chronic Unhappiness By: Mark Williams
Emotional Intelligence, 10th Edition By: Daniel Goleman
Books on Addiction Recovery
The Biology of Desire: Why Addiction Is Not a Disease By: Marc Lewis PhD
In the Realm of Hungry Ghosts: Close Encounters with Addiction By: Gabor Maté
Never Enough The Neuroscience and Experience of Addiction By: Judith Grisel
Unbroken Brain: A Revolutionary New Way of Understanding Addiction By: Maia Szalavitz
The Mindful Path to Addiction Recovery – Lawrence Peltz
I'll start again Monday. By Lysa Terkeurst
Addiction, Procrastination, and Laziness: A Proactive Guide to the Psychology of Motivation By: Roman Gelperin
Dopamine Nation: Finding Balance in the Age of Indulgence
Rezoom: The Powerful Reframe to End the Crash-and-Burn Cycle of Food Addiction By: Susan Peirce Thompson PhD , Everett Considine
Food Junkies: Recovery from Food Addiction By: Vera Tarman
Rewired: A Bold New Approach to Addiction and Recovery: Erica Spiegelman
Internal Family Systems Therapy Books
Greater than the sum of our parts: discovering your true self through internal family systems therapy: Richard Schwartz (listen to audio for guided meditations)
Internal Family Systems Therapy: Second Edition – Richard Schwartz
Parts Work: A Guide to Your Inner Life By: Tom Holmes PhD , Lauri Holmes MSW
Internal Family Systems Skills Training Manual: Trauma-Informed Treatment for Anxiety, Depression, PTSD & Substance Abuse By: Frank G. Anderson MD , Martha Sweezy PhD , Richard C. Schwartz
Somatic Internal Family Systems Therapy: Awareness, Breath, Resonance, Movement, and Touch in Practice By: Susan McConnell
Altogether You: Experiencing Personal and Spiritual Transformation with Internal Family Systems Therapy by Jenna Riemersma
Healing the Fragmented Selves of Trauma Survivors: Overcoming Internal Self-Alienation By: Janina Fisher
No Bad Parts by Richard Schwartz
Intimacy from the Inside Out: Courage and Compassion in Couple Therapy by Martha Sweezy
An Internal Family Systems Guide to Recovery from Eating Disorders: Healing Part by Part By: Amy Yandel Grabowski
Transcending Trauma: Healing Complex PTSD with Internal Family Systems By: Frank G. Anderson
Reinventing Your Life Jeffrey Young, Janet Klosko (Schema Therapy—like IFS)
Experiencing Schema Therapy from the Inside Out: A Self-Practice/Self-Reflection Workbook by Joan M. Farrell, Ida A. Shaw
Self-Therapy, 2nd Edition By: Jay Earley
The Best Books on Trauma
The Body Keeps the Score: Brain, Mind, and Body in the Healing of Trauma by Bessel van der Kolk
Complex PTSD By: Pete Walker
Waking the Tiger By: Peter A. Levine
It Didn't Start with You: How Inherited Family Trauma Shapes Who We Are and How to End the Cycle By: Mark Wolynn
Sensorimotor Psychotherapy: Interventions for Trauma and Attachment By: Pat Ogden , Janina Fisher
Gifts from a Challenging Childhood by Jan Bergestrom
Connecting Paradigms: A Trauma Informed & Neurobiological Framework for Motivational Interviewing Implementation by Bennett. Matthew S
Rethinking Trauma Treatment: Attachment, Memory Reconsolidation, and Resilience By: Courtney Armstrong
The Best Books on Attachment
Attachment Disturbances in Adults By: Danial P. Brown, David S. Elliott
Anatomy of Love  by Helen Fisher
Wired for Love By: Stan Tatkin PsyD MFT
The journey from abondment to healing: surviving through and recover form the five stages that accompany the loss of love – Susan Anderson
The Power of Attachment: How to Create Deep and Lasting Intimate Relationships By: Diane Poole Heller PhD , Peter A. Levine
Overcome Neediness and get the love you want: Jack Ito
Insecure In Love – Leslie Becker-Phelps
Attached: The New Science of Adult Attachment and How It Can Help You Find – and Keep – Love By: Amir Levine , Rachel Heller
87 minutes by Kent Hoffman
Addiction as an Attachment Disorder By: Philip J. Flores
Addiction, Attachment, Trauma, and Recovery: The Power of Connection By: Oliver J. Morgan
Stoicisim Books
A Handbook for New Stoics: How to Thrive in a World out of Your Control; 52 Week-by-Week Lessons By: Massimo Pigliucci , Gregory Lopez
The Stoic Challenge: A Philosopher's Guide to Becoming Tougher, Calmer, and More Resilient – William Irvine
How to Think Like a Roman Emperor: The Stoic Philosophy of Marcus Aurelius By: Donald Robertson
The Practicing Stoic by Ward Farnsworth
ADHD Books
Scattered: How Attention Deficit Disorder Originates and What You Can Do About It By: Gabor Maté MD
ADHD in intimate relationships – Stefan Rudnicki
The Smart but Scattered Guide to Success: How to Use Your Brain's Executive Skills to Keep Up, Stay Calm, and Get Organized at Work and at Home By: Peg Dawson EdD
The ADHD Effect on Marriage: Understand and Rebuild Your Relationship in Six Steps by Melissa Orlov
Communication Books
Say What You Mean: A Mindful Approach to Nonviolent Communication By: Oren Jay Sofer , Joseph Goldstein
Nonviolent Communication: Create Your Life, Your Relationships, and Your World in Harmony with Your Values by Marshall Rosenberg PhD
The Art of Conflict Management: achieving solutions for life, work, and beyond
The Zen of Listening By: Rebecca Z. Shafir MA CCC
Communication Skills for Couples: 21 Practices: Work with Your Partner to Build a Mindful Relationship, Improve Emotional Intelligence and Grow Empathy for Each Other Communication Skills Series, Book 4 By: Marshall Patterson
Narcissism Books
Rethinking Narcissism – The bad and surprising good about feeling special – Craig Milkin
You Might Be a Narcissist If… – How to Identify Narcissism in Ourselves and Others and What We Can Do About It By: Paul Meier , Cynthia Munz , Lisa Charlebois
Healing from Narcissism: A Journey Through the Stages of Recovering Your Personality from Narcissistic Disorder, Discover Compassion and Love for Others. Get Over the Addiction of Self-Obsession By: Dr. Rachel Bancroft PsyD
Relationships Books
The New Rules of Marriage: What You Need to Know to Make Love Work By: Terrence Real
How to Be an Adult in Relationships: The Five Keys to Mindful Loving By: David Richo
Hold Me Tight: Seven Conversations for a Lifetime of Love By: Dr. Sue Johnson EdD
The Seven Principles for Making Marriage Work: A Practical Guide from the Country's Foremost Relationship Expert, Revised and Updated By: John M. Gottman PhD
Secrets of a Passionate Marriage By: David Schnarch 
Fierce Intimacy  by Terrence Real
We Do: Saying Yes to a Relationship of Depth, True Connection, and Enduring Love By: Stan Tatkin
The 80/80 Marriage: A New Model for a Happier, Stronger Relationship by Kaley Klemp and Nate Klemp PhD
No More Mr. Nice Guy: A Proven Plan for Getting What You Want in Love, Sex and Life (Updated) By: Dr Robert Glover
The Five Love Languages: The Secret to Love That Lasts By: Gary Chapman
Boundaries in Marriage By: Dr. John Townsend ,
How to be an Adult in Love – David Richo
How to Improve Your Marriage Without Talking About It By: Patricia Love , Steven Stosny.
The Ape That Understood the Universe: How the Mind and Culture Evolve By: Steve Stewart-Williams
The Evolution of Desire By: David M. Buss
Books Separation and Divorce
I Wish I knew this Before my Divorce: Ending the battle between holding on and letting go: Elaine and Joseph Foster
Conscious Uncoupling: Five steps to living happily even after: Katherine Woodward Thomas
Hope for the Separated – Gary Chapman
Fighting for your Marriage While Separate: A practical guide for the brokenhearted: Linda Rooks
Rebuilding: when your relationship ends – Bruce Fisher
How to Fix a Broken Heart by Dr. Guy Winch
Also Read:
Online Women's & Couples Betrayal Trauma Recovery Groups
Betrayed Partner Therapist
Couples counseling for betrayal trauma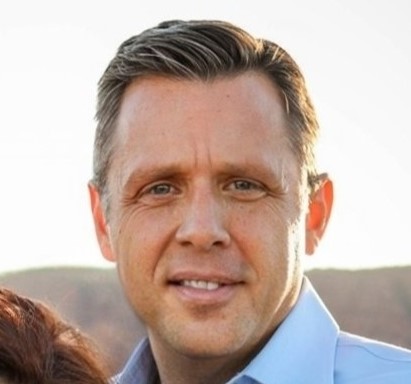 Rob Terry is a therapist for clients in Utah and coach for clients outside of Utah and across the globe. He specializes in sex addiction recovery for individuals and couples. He integrates the CSAT, OCSB, and Minwalla models for individual recovery and Gottman Method, RLT, and ERCEM for couples recovery. He is betrayal trauma informed. His therapy modalities are IFS, ACT, CBT, EMDR, and Attachment Theory.