Starting May 3 Online Men's Group for Effective Sex Addiction Recovery REGISTER NOW
Discover a transformative journey towards healing and recovery from sex addiction with our 12-week IFS-based group. Combining the principles of Internal Family Systems Therapy (IFS), Patrick Carnes' sex addiction CSAT model, and Douglas Braua-Harvey's Out-Of-Control-Sexual-Behavior model, this group offers a comprehensive approach to help you reclaim control over your life and build a foundation for lasting recovery.
Sex Addiction Recovery Group Therapy Schedule: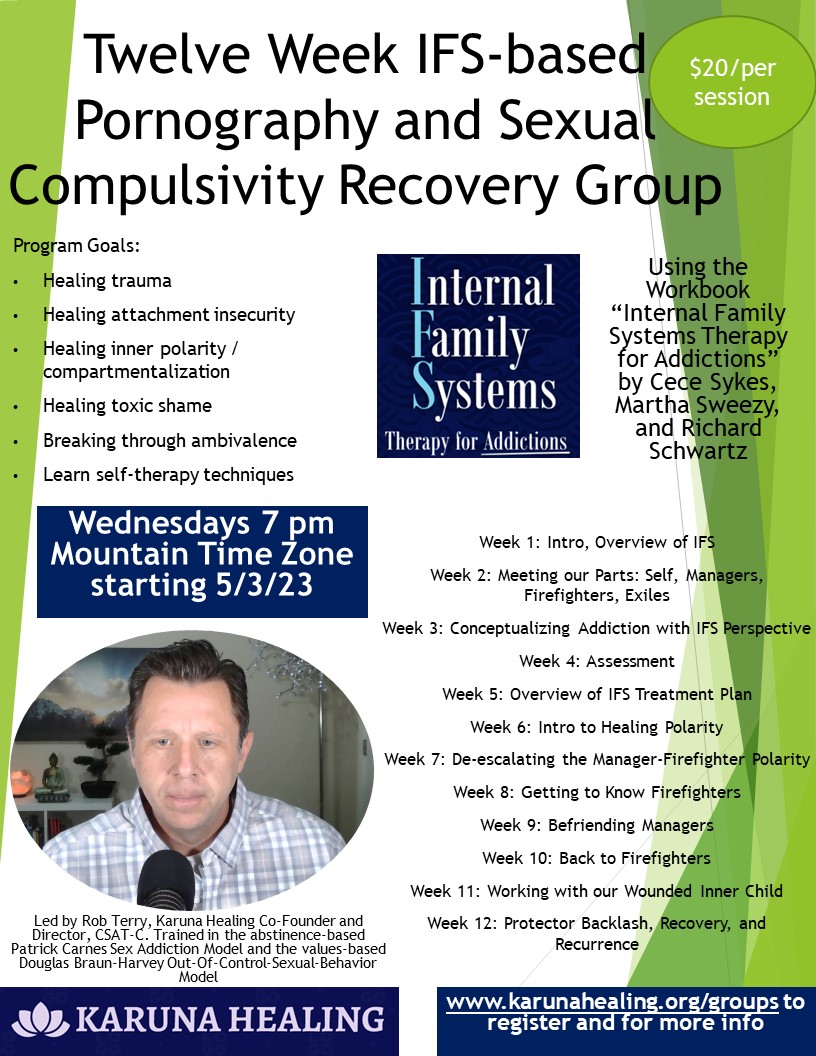 Week 1: Introduction and Overview of IFS – Explore the fundamental concepts and principles of Internal Family Systems Therapy. (Pages 1-2)
Week 2: Meeting Our Parts – Dive into the exploration of Self, Managers, Firefighters, and Exiles within our internal system. (Pages 2-18)
Week 3: Conceptualizing Addiction with an IFS Perspective – Gain insights into understanding addiction through the lens of IFS. (Pages 19-23)
Week 4: Assessment – Assess and evaluate your personal journey with addiction. (Pages 25-46)
Week 5: Overview of IFS Treatment Plan – Learn about the effective treatment plan utilizing IFS for addiction recovery. (Pages 47-53)
Week 6: Introduction to Healing Polarity – Explore the healing of polarities within the internal system. (Pages 53-63)
Week 7: De-escalating the Manager-Firefighter Polarity – Discover strategies to de-escalate the conflicts between Managers and Firefighters. (Pages 63-74)
Week 8: Getting to Know Firefighters – Deepen your understanding of Firefighters and their role in addiction patterns. (Pages 74-82)
Week 9: Befriending Managers – Develop a compassionate relationship with the Managers in your internal system. (Pages 82-90)
Week 10: Returning to Firefighters – Continue your journey of healing by focusing on Firefighter parts. (Pages 90-96)
Week 11: Working with Our Wounded Inner Child – Explore the healing process of the wounded inner child. (Pages 96-119)
Week 12: Protector Backlash, Recovery, and Recurrence – Address the challenges of Protector backlash, maintaining recovery, and preventing relapse. (Pages 119-127)
At the conclusion of the 12-week program, participants have the option to join our long-term sex addiction recovery group, providing ongoing support and guidance. Click here to register for the 12-week program.
Online Sex Addiction Recovery Group:
Our online sex addiction recovery group is curated for those fervently striving to surmount challenges related to porn or sexual compulsiveness and attain enduring recuperation.
Drawing from the abstinence-based Patrick Carnes sex addiction CSAT model and the values-based Douglas Braun-Harvey CST Out-Of-Control-Sexual-Behavior model, we offer a comprehensive approach to address attachment security, emotion regulation, internalized shame, self-compassion, self-development, and mutual support.
Key Features of the Group:
Long-term group format for sustained progress
Minimum 12-week commitment with a four-week cancellation policy
90-minute sessions once per week
Cost of $30 per session, billed four weeks at a time ($120)
Sessions led by Rob Terry, an experienced therapist and group facilitator
Group meets on Thursdays at 6:30 PM Mountain time
Take the first step towards recovery by registering for our online sex addiction recovery group.
Click here to sign up and secure your spot. For further inquiries or to determine if this group is the right fit for you, schedule a 15-minute free consultation with Rob Terry.
Join our community of support and experience the transformational power of group therapy.
Reclaim your life, rebuild your relationships, and embark on a journey of personal growth and healing. 

Also Read:
Finding a Sex Addiction Therapist Online
Online Group for Sex Addiction Recovery
Sex Addiction Recovery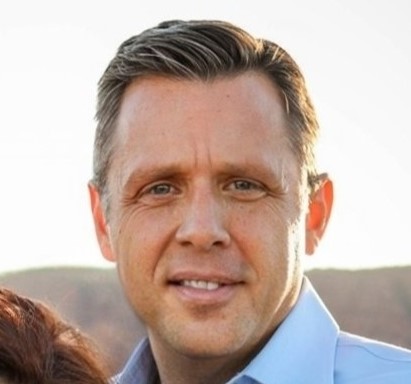 Rob Terry is a therapist for clients in Utah and coach for clients outside of Utah and across the globe. He specializes in sex addiction recovery for individuals and couples. He integrates the CSAT, OCSB, and Minwalla models for individual recovery and Gottman Method, RLT, and ERCEM for couples recovery. He is betrayal trauma informed. His therapy modalities are IFS, ACT, CBT, EMDR, and Attachment Theory.